"Praise be to the God and Father of our Lord Jesus Christ, the Father of compassion
God is smiling on Bright Hope in Philadelphia! Our faithfulness to God is bringing hope to so many in Sierra Leone.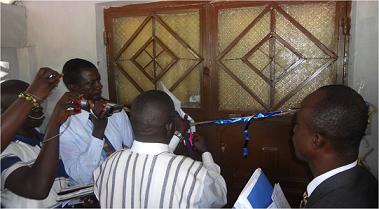 The church started with 30-50 people, and has already grown to over 100! The members are very proud to be a part of the Bright Hope legacy and tradition. They have even started a "Bright Hope Carpentry Shop" to empower members to learn a trade and to provide a living for their families. Pastor Laggah, the acting pastor, said, "There's more to come. Whatever we build or start will bear the name BRIGHT HOPE!" Yes, the fire has been lit and the people of Moyamba are doing an outstanding job further expanding their ministry!

This new church not only provides a place for worship, but will be a sanctuary to learn God's Word, serve His people, and feel secure in the presence of Christ.
Moreover, Pastor Francis, the minister who served as pastor when we visited Moyamba in 2009, is now pursuing his bachelor of divinity so that he can be well trained and prepared for greater ministry in the new building! Pastor Tannie Barbington-Johnson, the Pastor of Regent Road, sent him to divinity school because he believes a Bright Hope Pastor should be equipped to minister to God's people, and prepared to go to the next level that God has for them.

We are grateful to our Lord and Savior Jesus Christ for this opportunity and humbled that God would use Bright Hope in Philadelphia to be a part of planting a church in Africa--some 6,000 miles away. This is historic not only for us, but also for them.

Bright Hope, let's continue to support Bright Hope in Sierra Leone.
To support the Bright Hope Moyamba Church with a donation you can:
Make an online payment by clicking here (ACS) 
Mail a check to: Bright Hope Baptist Church
1601 N. 12th Street
Philadelphia PA, 19122
For more information contact 215-232-6004
and the God of all comfort, who comforts us in all our troubles, so that we can comfort those in any trouble with the comfort we ourselves have received from God. For just as the sufferings of Christ flow over into our lives, so also through Christ our comfort overflows." 
2 Corinthians 1:3-5
The Bright Hope Baptist Church offers a full range of Christian counseling for members. Our Pastoral staff is available to help you with the many challenges that you may face because of illness, family matters, marital issues, etc.